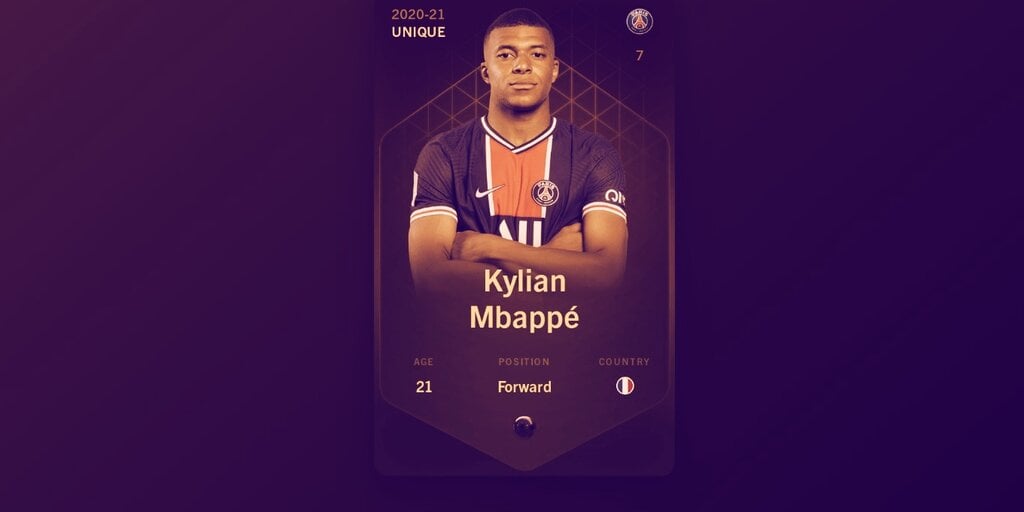 In brief
A trading card in blockchain-based fantasy football game Sorare has been auctioned off for $65,000.
The card in a non-fungible Ethereum token representing Kylian Mbappé.
The new owner expects to sell the NFT for twice as much as he bought it.
A trading card representing Paris Saint-Germain's forward Kylian Mbappé in Ethereum-based fantasy football game Sorare has been sold for €55,105 ($64,744), according to the card's page.
Sorare allows football fans to collect and trade digital cards in the form of Ethereum non-fungible tokens (NFTs) in order to compose a "dream team" and pit it against other players.
In September, this year's Champions League finalist Paris Saint-Germain FC became the game's 100th licensed football club.
As a result, PSG stars such as Neymar and Kylian Mbappé were tokenized and released as digital cards.
"Paris Saint-Germain is this year's Champions League finalist with incredible players in the team such as Neymar and Mbappé. It's an honor to have them join as the 100th licensed club," Sorare CEO Nicolas Julia told Decrypt at the time. "Having them communicate about Sorare helps onboard many new people to blockchain gaming and the Ethereum space."
The auction for Kylian Mbappé was held on November 30, with the winning bid amounting to over 55,000 euros. His NFT-card is of "unique" rarity, meaning that only one edition of it exists on the Ethereum blockchain.
Pseudonymous user Maxmersch—the card's new owner—has already set the minimum bid at €122,682 ($148,553) in case anyone else would want to buy the NFT. This means that they expect to get at least $83,800 in profit if Mbappé's card changes hands at that price.
As Decrypt reported, the NFT market is now a $100 million industry and has grown by 57% during the summer of 2020 alone.