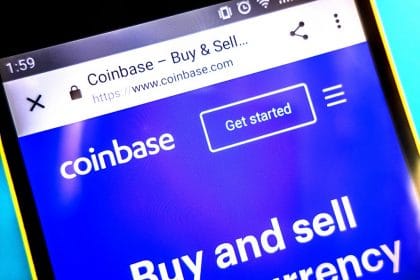 This move by Coinbase will allow all its current and past employees as well other private stockholders to sell their stock before the IPO on the Nasdaq Private Market.
World's largest cryptocurrency exchange Coinbase has informed its shareholders that the company is soon to launch a secondary market for its private stock on the Nasdaq Private Market. Further details of the process shall be available today i.e. Monday, January 25 by noontime, said Coinbase.
"On Monday, January 25 at noon PT you will receive an email from the Nasdaq Private Market with details, including how you can access the market, what shares are eligible for trading, and how the market will function," the message explained.
The secondary market will allow current and former employees and all other who hold the stock in the company to sell part of their vested shares in advance of a public offering. The Nasdaq Private Market offers services for companies before the IPO. This includes "controlled liquidity programs for pre-IPO companies looking to raise secondary capital for shareholders and investors."
The move comes just before the company's much-awaited public market debut. In mid-December, Coinbase filed a confidential S-1 informing the SEC about its intention to go public.
As per earlier reports, Coinbase will tap into the public markets through direct listing instead of a standard IPO. Coinbase IPO announcement has caused much excitement in the market. Probably, it will encourage other crypto firms to go public in the future. Thus, it will lead to more legitimacy in the growth of the crypto market while bridging the gap with traditional finance.
Coinbase Year 2020 in Review ahead of Stock Offering
Two days back, crypto exchange Coinbase also published a yearly review for 2020. The exchange talked about the growth for its institutional clients along with offering insights into its optimal allocations.
Just released: Our Year in Review covers 2020 from the lens of our institutional clients, including insights on optimal allocation and the story behind our largest trades to date. https://t.co/JoGK5msEaP

— Coinbase Institutional (@CoinbaseInsto) January 22, 2021
The exchange wrote:
"In 2020, crypto cemented its status as an institutional asset class. Coinbase had a front-row seat to this development — facilitating trading, custodial, and lending activities for many of the world's investment firms, corporates, banks, fintechs, and wealth managers".
The company continues to unveil new products and services to expand its market reach. Last week, Coinbase announced the acquisitions of blockchain company Bison Trails. This company specializes in building blockchain tech for clients across multiple fields.
Similarly, to make it easy for new token issuers, Coinbase announced its Asset Hub allowing crypto tokens issuers to list new tokens on the exchange.
Business News, Cryptocurrency news, IPO News, Market News, News
Bhushan is a FinTech enthusiast and holds a good flair in understanding financial markets. His interest in economics and finance draw his attention towards the new emerging Blockchain Technology and Cryptocurrency markets. He is continuously in a learning process and keeps himself motivated by sharing his acquired knowledge. In free time he reads thriller fictions novels and sometimes explore his culinary skills.