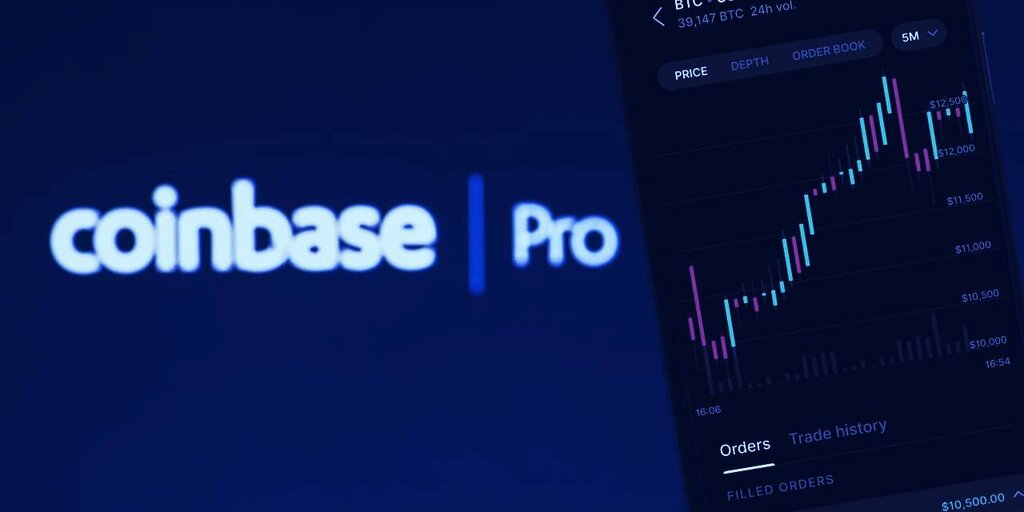 In brief
Coinbase Pro is Coinbase's more sophisticated exchange offering for experienced crypto traders.
Users can place market, limit and stop orders on the platform.
It also offers lower fees when buying crypto than Coinbase, depending on the type of order placed.
What is Coinbase Pro?
Founded in San Francisco in 2012, Coinbase is one of the largest and most recognisable digital currency exchanges in the world, and is often the first port of call for cryptocurrency newcomers, thanks to its ease of use and accessibility.
In 2015, the company added another powerful asset to its roster by launching a US-based exchange for professional traders, called Coinbase Exchange. The following year, this was rebranded to Global Digital Asset Exchange, or GDAX.
Fast forward to 2018, and another name change resulted in the Coinbase Pro we know today—a platform that aims to provide professional trading tools and services, all packaged in a UI that's designed to make trading experiences easier and more intuitive. Does it deliver? Let's find out.
Design and UX
Cryptocurrency exchanges are often a complicated, convoluted mess of charts, menu options and numbers all crammed together into one intimidating mess. Thankfully, Coinbase Pro's design and UI is cleaner than many of its rivals, with a layout that's easy to navigate.
Dark theme aside (which our eyes are very thankful for), the main screen itself is clearly laid out into different sections. The left-hand side allows you to select your market and view your wallet balance, while also placing different types of buy and sell orders. The central section displays the order book and price charts, with your open orders displayed beneath the latter. The right-hand side shows a list of the trade history.
It's all very neat, tidy, and intuitive to use, making it an ideal first exchange for crypto newcomers who want to take their first steps beyond merely purchasing coins with fiat currency on the regular version of Coinbase.
Getting started
If you already have a Coinbase account, then getting started on Coinbase Pro is as simple as clicking 'Login' and entering your Coinbase email address and password.
If you're starting from scratch, the signup process is straightforward, kicking things off by asking for your name, email address, and what password you'd like to use. The next steps might seem a little unnerving if you've never registered at an exchange before, but you can rest assured that everything's above board.
You'll need to provide your address and a phone number for verification, along with providing a valid form of state ID. In the US, this means you'll have to provide your social security number. This is standard practice and there's no way around it if you want to set up an account.
Ease of use
Despite the 'Pro' in its moniker, navigating and using Coinbase Pro is a pain-free experience. If you're looking to deposit cryptocurrency, simply go to 'Assets', and 'Deposit', choose the currency you're looking to deposit, and copy the wallet address provided. Withdrawing is just as easy. Go to 'Assets', then, you guessed it, 'Withdrawal'.
If you're looking to deposit or withdraw fiat currency, then that's also easily done via the 'Assets' page. If you're using USD you're able to carry out an ACH transfer of bank wire from a US bank account, which also applies to withdrawals.
When it comes to placing an order when trading, you've got three options—a market order, a limit order, and a stop order.
💵 A market order lets you buy immediately at (or near) the current market price. This is the simplest option, and is essentially like buying on the regular version of Coinbase.
📉 A limit order allows you to buy or sell at or below a specific price. This gives you greater control over your price, essentially it allows you to only buy an asset if it hits a set price (or lower). But if the price is going the other way, this trade might take longer to complete.
🛑 A stop order allows you to buy or sell an asset once its price hits a specified point. Once the price hits that point, the stop order becomes a 'market order', which tells the trade to execute immediately.
It's beyond the scope of this review to go into each option in detail (a more in-depth explanation can be found here), but we can say that each one is easy to set up on Coinbase Pro with no hassle.
How to transfer from Coinbase to Coinbase Pro
Users can easily transfer funds between their regular Coinbase and Coinbase Pro wallets. This is done via the 'Assets' page—all you have to do is select the relevant Coinbase or Coinbase Pro wallet under the 'Destination' option.
Coinbase Pro fees
Compared to Coinbase's high fees (which can hit more than 4.00% for credit and debit card transactions), Coinbase Pro's fees are much lower, making it far more appealing to investors. It's also worth bearing in mind that fees are reduced the more you trade.
Coinbase Pro uses a maker-taker fee model to work out its trading fees. Maker orders provide liquidity, and are charged different fees to orders that take liquidity (taker orders). Fees are calculated depending on the pricing tier you're in when the order is placed, and not the tier you're in after a trade is completed.
When a market price order is immediately filled, a user is considered a taker, and will pay a fee between 0.04% and 0.50%. If an order is placed without immediately being matched by an existing order, it's placed in the order book. If another user places an order that matches the first one, then the initial user is considered to be the maker, and will pay a fee between 0.00% and 0.50%. Taker fees are based upon total USD trading volume over the trailing 30-day period across all order books.
This fee system can be quite appealing to takers, as they can take advantage of volume-based discounts which have the potential to lower fees all the way down to 0.04%.
Is Coinbase Pro safe?
Coinbase is widely regarded as one of the safest exchanges in the world. As the world's largest Bitcoin exchange and broker, it's backed by trusted investors and located in San Francisco, which is a highly regulated location.
At the time of writing, the company has never experienced a hack, thanks to its heavy security measures. One of these is the fact that 98% of Coinbase customer funds are stored offline in cold storage, which means that they're disconnected from the Internet, making them invulnerable to online attacks. If that wasn't enough, drives and paper backups are also spread out geographically in safe deposit boxes and vaults around the globe.
It's also worth noting that cash held in Coinbase wallets is FDIC insured up to $250,000. Crypto, however, isn't insured, so unless you plan on day trading, you should always store your coins in an appropriate wallet—either a mobile, software or hardware wallet—after purchasing.
During the recent Bitcoin bull run, a number of exchanges, including Coinbase and Coinbase Pro, have suffered from unexpected downtime during periods of extreme price volatility. At the heart of the problem is the additional load on exchanges caused by surges in traffic, overloading their infrastructure.
Coinbase is trying to do better. In a blog post after one such incident in January 2021, the company explained that it's "pursuing multiple avenues to increase the availability of our services in preparation for heightened load." Those plans include breaking MongoDB clusters that held "large discrete miscellaneous collections" into separate clusters, and decomposing its application server.
Time will tell if Coinbase's efforts have been successful, but the fact that exchanges can go down unexpectedly is one more reason to keep your crypto in a private wallet rather than on an exchange.
Is Coinbase Pro good for privacy?
Privacy is where things get a little trickier. While impressive on the security front, Coinbase as a whole is a company with a less impressive track record when it comes to privacy. For those members of the cryptocurrency community who embrace the crypto-adjacent principles of privacy and anonymity, that's a bitter pill to swallow.
Numerous reports have claimed that Coinbase0 tracks how its users spend Bitcoin. The fact that the company also acquired Neutrino—a blockchain-tracking startup that's working on uncovering the identity of address owners—hasn't done the company any favours either, despite CEO Brian Armstrong's acknowledgement that the acquisition was "a mistake".
Coinbase has also shown that it wants to sell its blockchain analytics software to the DEA and IRS, another major red flag for privacy advocates.
Coinbase vs Coinbase Pro
Coinbase should be thought of as an entry-level gateway for crypto newcomers to easily buy their first cryptocurrency using fiat. They'll pay for this convenience with high fees, and Coinbase itself is not an exchange. Instead, users are trading directly with Coinbase itself.
Coinbase Pro, however, is an exchange, and it allows users to experiment with more advanced features such as setting up different buy and sell orders, with much lower fees to boot. Coinbase Pro sees users buying and selling with each other, and is the natural next step after newcomers have dipped their toes into cryptocurrency using Coinbase's simpler service.
Coinbase Pro App & Other Features
Coinbase Pro also offers a mobile app for iOS and Android devices. It includes the bulk of the functionality from the desktop site, with live updates to charts, plus the ability to place limit and market orders, packaged in the same slick user interface as its bigger brother.
In February 2020, Coinbase Pro reintroduced margin trading functionality for its users, following an abortive experiment in 2017. This allows them to borrow funds from a lender to trade, increasing potential buying power while allowing lenders to earn interest based on the market demand for margin funds. While this increases the profit potential compared to traditional trading, it also brings higher risks along with it.
Coinbase Prime is a professional trading platform for institutional clients (a company or organization that invests money on behalf of clients or members), allowing them to access a selection of professional trading tools that come complete with a dedicated team devoted to institutional support. While it can't be used by individuals—and therefore falls outside the scope of this review—it provides large investors a platform to trade safely and securely.
Customer support
One area where Coinbase has struggled in recent months is that of customer support, with many users posting in the r/coinbase subreddit and in Twitter threads that they've been locked out of their accounts or are unable to verify their accounts.
Coinbase itself is aware of the issues around customer support; in a January 2021 blog post it announced that it's "committing to a better customer experience," and announced that it's expanding its customer support team, adding more self-service options, and rolling out the option to chat directly with customer support representatives. Whether these measures will address the complaints that some users have had remains to be seen, but it's a step in the right direction.
Verdict
Coinbase Pro is firmly established as one of the most reliable crypto exchanges in the world, and is a logical next step for those users who are looking to avoid the higher fees of the regular Coinbase service.
Despite its more complex features, it's still beginner-friendly, thanks to its clean layout and options—not to mention synergy across all Coinbase accounts, coupled with much lower fees. For that reason, we'd recommend Coinbase Pro to most people as their first proper crypto exchange, as long as they carry out some basic research on how to place different types of buy and sell orders.
The privacy concerns and customer support issues aren't something that should be completely overlooked, however. Neophyte crypto traders will likely want to explore further afield once they've got to grips with the exchange; there are, after all, plenty of other options available. As long as you research others accordingly; you can never be too careful when investing, after all.
Star rating: 4/5