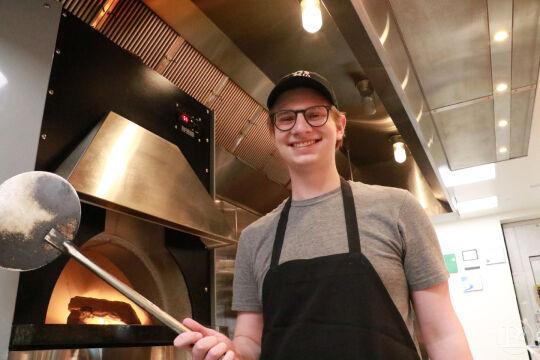 When the smoker kicks out the finest brisket in town, and the wood-fired oven casts a glow on the prep's smiling face, when the breeze dances around the glasses of bottomless mimosas on the upper patio during brunch, and the latest seasonal treat bursts onto the tasty menu, the vibe has been set. It's time for great times at Ripple & Company, for staff and customers alike.
Staff at Lafayette's newest downtown eatery that opened at 1007 Main Street in December 2020 have grown to love the unique atmosphere that an open kitchen and counter service can offer. All the world's a stage, but it is wonderful.
Just ask Olivia Jones, whom you'll encounter at the meat carving station when you first place your order.
"The vibe at Ripple is really inviting. People say they feel it from outside as they walk by. It just draws you in, especially with the large patio doors in the front. Then you come in and there is the great music and open kitchen. We are modern, but traditional at the same time, with that traditional Midwestern food and a modern architecture," Jones said.
Jones said the drawstring for the fantastic vibe at Ripple & Company is threaded directly by the owners and manager.
"Their values come from incorporating the community into everything we do. Our leadership sees opening this restaurant on the east end as hopefully having a Ripple effect. We are trying to work with local farms to source our meats and produce, and a local cheese factory as well. The idea is to keep our community thriving."
It helps that the team at Ripple & Company shares that same positivity.
"Working at Ripple & Company is not just another job. It is joining a family," said Chef de Cuisine Nik Emerick. "We like to invest in our staff and really make them feel welcome and part of the team."
Emerick helped open East End Grill (Ripple's sister restaurant) across the street in 2016, and when the opportunity arose to help start a brand new eatery with an entirely different concept, he jumped. And it has paid off.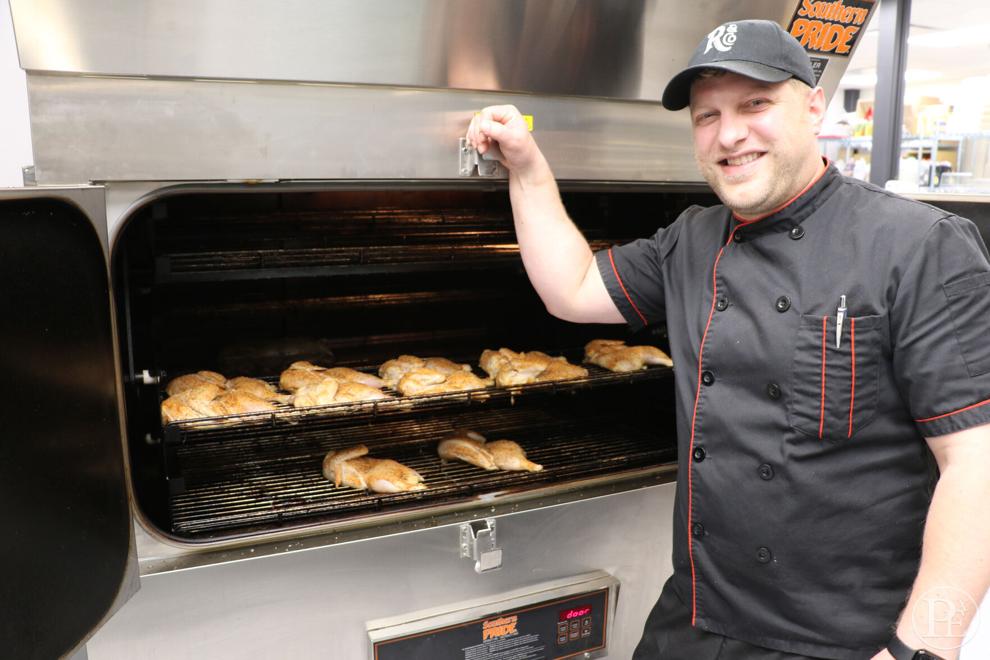 "The continued mentorship from our executive chef and company management has been something I have highly valued," he said. "Overall this is a fun place to work. We try to build off of each other's knowledge bases, and we take every opportunity to learn from each other day to day."
Jones echoed that. As a full time mom, student, and Ripple team member (that's THREE full time jobs), she has sought mentorship from her leaders as she pursues higher education in the hospitality field.
"They have opened up the kitchen to me to study and learn processes and flow," she said. "They know that someday I want to open my own restaurant or food truck and they want me to succeed."
Ian Riemenschneider, a prep cook, enjoys Ripple & Company for its fresh concepts and collaborative kitchen experience.
"If you have a new idea, you can pitch it to the chef. And they will ask our opinions regularly," he said. "It's one of the more free-form places I've worked because we change up our menu fairly regularly and run specials as well. It gives you a chance to flex your creative muscle," he said.
Riemenschneider added that he thinks it's rare for a restaurant to offer full time staff health benefits, paid vacation, and a retirement plan.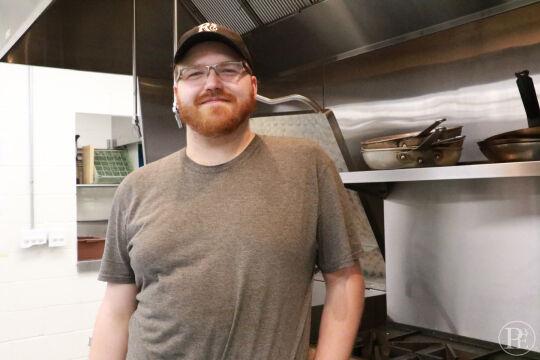 The best way to figure out if you'd like to work at Ripple, said Riemenschneider, is to eat there.
"Come in and see for yourself. Come here and eat. See how it operates, how the staff works together. It is an open kitchen, and the upside to that is that even your kitchen is part of the guest experience. We have a positive vibe and guests just get pulled into that."
Marcus Rodkey, who works the wood-fired oven and carving station, is a sophomore studying electrical engineering at Purdue. Aside from Ripple & Company being wholly flexible with his school schedule, he find the restaurant to be a joy.
"It doesn't even feel like work sometimes. We are busy and focused, but everyone gets along really well," he said.
Cormak Bardol, a freshman on track to graduate a year early from Purdue with a degree in general management, echoed those sentiments. Bardol is a cook at the wood-fired oven and welcomes the bustle of the lively restaurant.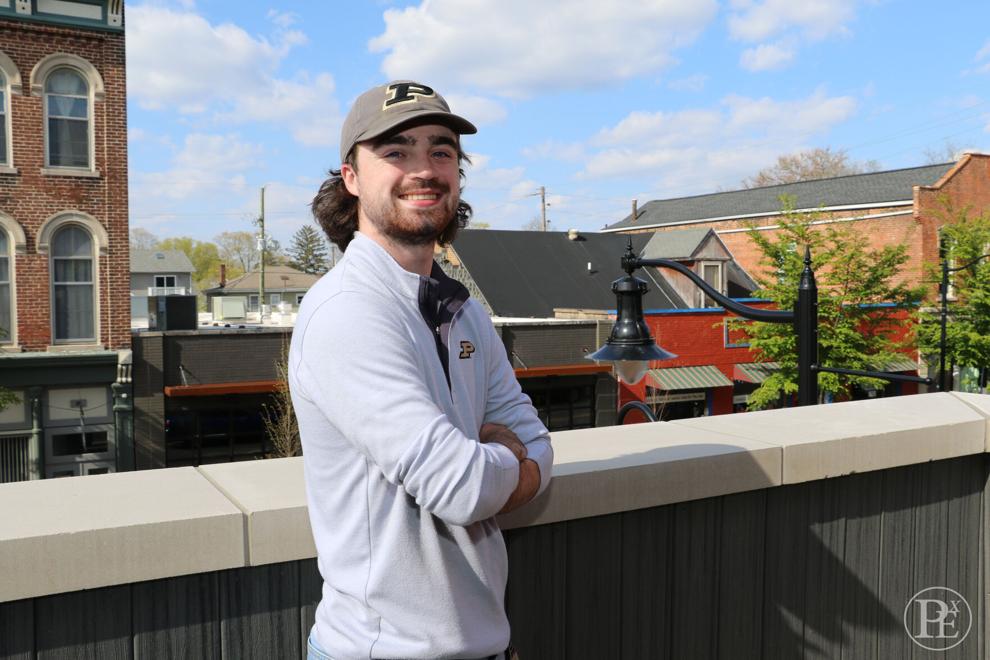 "Everyone is very open to ideas. They tell us, 'If you have an idea, bring it in and we will see if we can try it together,'" he said, recalling how, one day, they spun out some extra focaccia dough and made wood-fired pizzas from it.
Emerick, who has been in the industry for 17 years in a variety of capacities, said he has never worked for a company who case so much about the staff.
"The philosophy established by our founders is that the best way to take care of the guest, is to take care of the staff," Emerick said.
It's a feat to be so supportive when opening a new restaurant with a new concept. Especially when things get frenetic.
"Like the time we thought we would do a soft opening for events on the top floor and ended up booking seven events in one week" he said, chuckling.
But Emerick said the leadership team never wavers from doing the right thing to take care of staff and pull through busy times, together.
Ripple & Company is hiring! To be part of the positive vibe, apply at workatripple.com.
Side Dish
When an elderly and somewhat unsteady gentleman came to the counter to order some delicious food, Ripple & Company chef de cuisine Nik Emerick knew he'd need some help. Given that Ripple & Company offers an open kitchen concept, it was natural for Emerick to have an interaction with the man, so he introduced himself and offered to assist the man to his table. As he held the man's belongings and tray of food, and offered his arm for stability, Emerick chatting with him about the weather and other such pleasantries. Later, a couple at another table had finished their meals and approached Emerick to compliment him on the food.
"It was delicious and we will definitely be back. But not just because of the food," she said. "We noticed how you helped the gentleman to his table and this is exactly the kind of business we want and need here in our town."