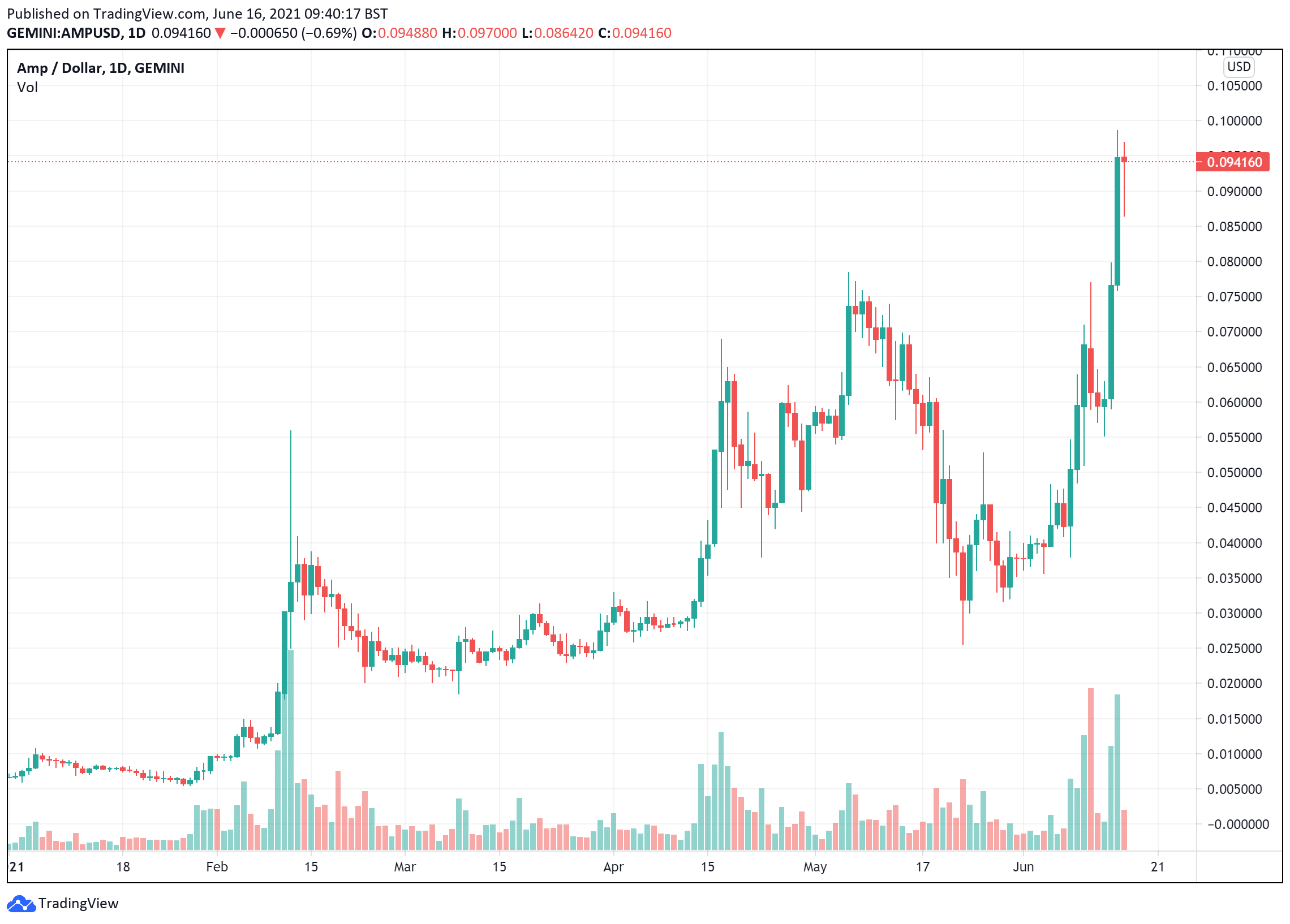 AMP Coin appears to be one of the biggest movers this week. The altcoin has been performing quite well, and there has been a notable spike in the AMP price over the past few days. Investors who specialize in picking altcoins might want to buy AMP and ride this wave.
However, increased volatility in the markets might also discourage them from doing so. Below, we look at AMP, its possible use cases, and what might have been responsible for the current rally.
An Introduction to AMP Coin
AMP is a token that was built to collateralize payments on the Flexa payment network. It is an Ethereum-based token that backs payments on Flexa, meaning that AMP collateral can be liquidated to cover costs if a Flexa payment fails or takes too long to be confirmed.
AMP has a significant use case. As long as the Flexa network attracts users and patrons, AMP should see increased adoption.
AMP was created last year, and it officially started trading activities in September. When it was listed, the token had a value of $0.01.
Looking to buy Amp (AMP) now? Invest at eToro!
75% of all retail investor accounts lose money when trading CFDs with this provider.
AMP Price Movements in 2021
AMP started 2021 on a mixed note. The asset had spent the last three months of 2020 dropping even further than its listing price, and the AMP price fell as low as $0.006.
While January brought gains, AMP was still unable to crack $0.01 until February. This was primarily due to the difficulty of purchasing it. Investors who wanted to buy AMP were unable to find it on any of the major exchanges, leading to significant credibility damage.
Despite the buying difficulty, there was still some belief in AMP. The asset's price began an uptrend in early February that ended with it crossing $0.05 for the first time. Then, another consolidation began, which ended in May.
When the May downturn hit, AMP was at a high of $0.069. The AMP price tried to weather the storm, although it dropped drastically on May 6 and bottomed out at $0.02 on May 23. Its recovery has been quite sporadic from there. AMP is valued at $0.094 per token – a 370 percent increase from its May lows.
What is Responsible for the Sharp Rise?
Over the past five days, the AMP price has jumped by 50 percent. The rise has been pinned to the asset's listing on major exchange Coinbase. The AMP listing began last week, along with Gitcoin (GTC) and Enzyme Token (MLN).
Coinbase has now become the first major exchange where investors can buy AMP. According to the asset's CoinMarketCap data page, some of the other exchanges include Gate.io, Bibox, Uniswap, and ZB.com. None of these exchanges has the credibility of Coinbase.
So, it appears that AMP has benefited from the fabled "Coinbase Effect" – an expected jump in price that an asset sees when Coinbase lists it.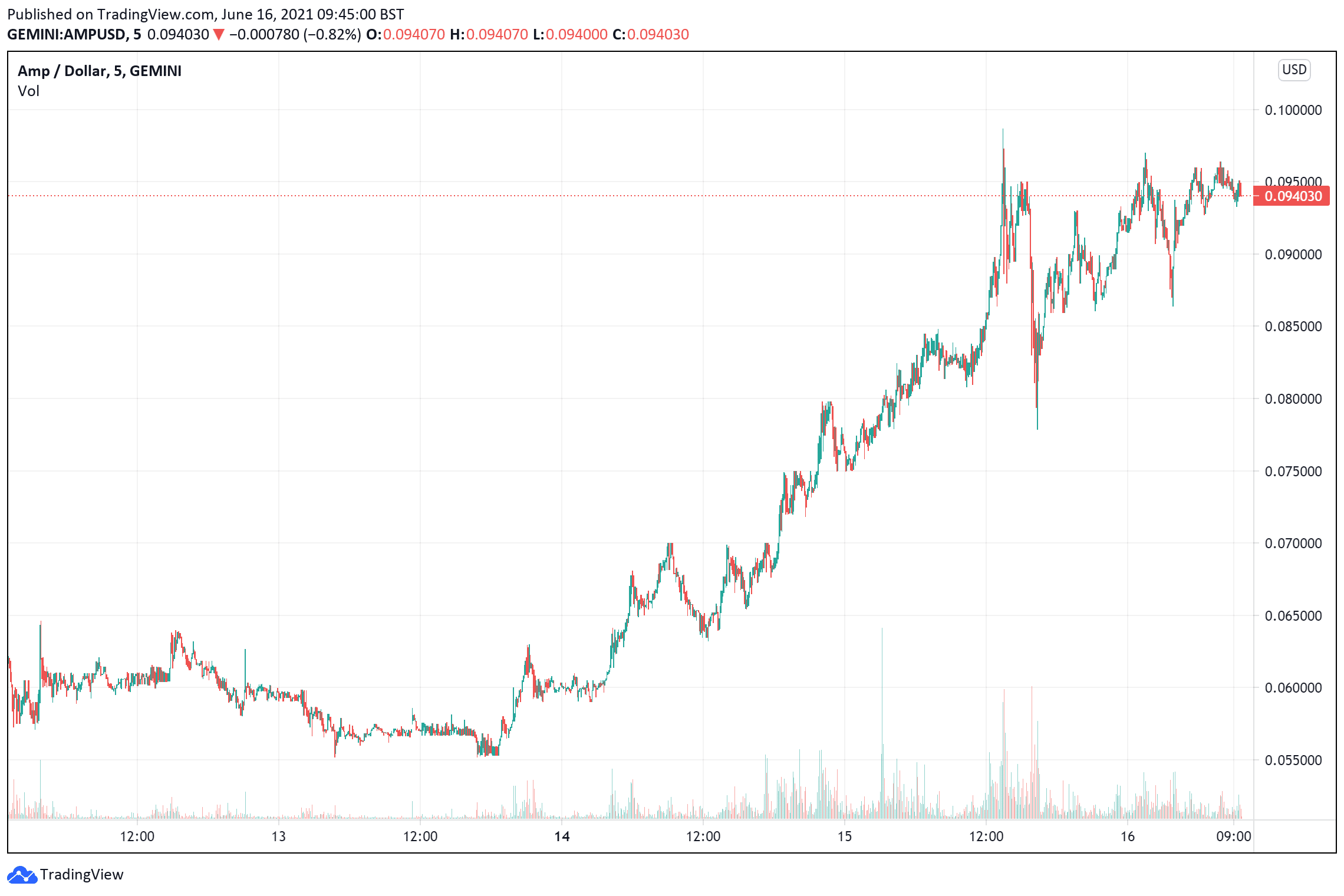 GTC and MLN also saw price jumps on the back of the Coinbase listing, but their surges weren't quite as sustained as that of AMP.
There is also the increased adoption of Flexa. Last month, Sheetz, a convenience store, announced that it had started accepting digital currency payments at its location. In a press release, Sheetz confirmed that it had started accepting crypto payments thanks to a partnership with Flexa.
Cryptocurrencies accepted include Bitcoin, Ether, Dogecoin, Litecoin, and more.
Also, the digital currency payment option will be available for in-store items and gas pumps at over 600 outlets across different states.
AMP Price Technical Analysis
With the AMP price riding an all-time high, it's easy to jump in and buy AMP now. The asset is up 15 percent over the past day, and it has benefited from the current market recovery.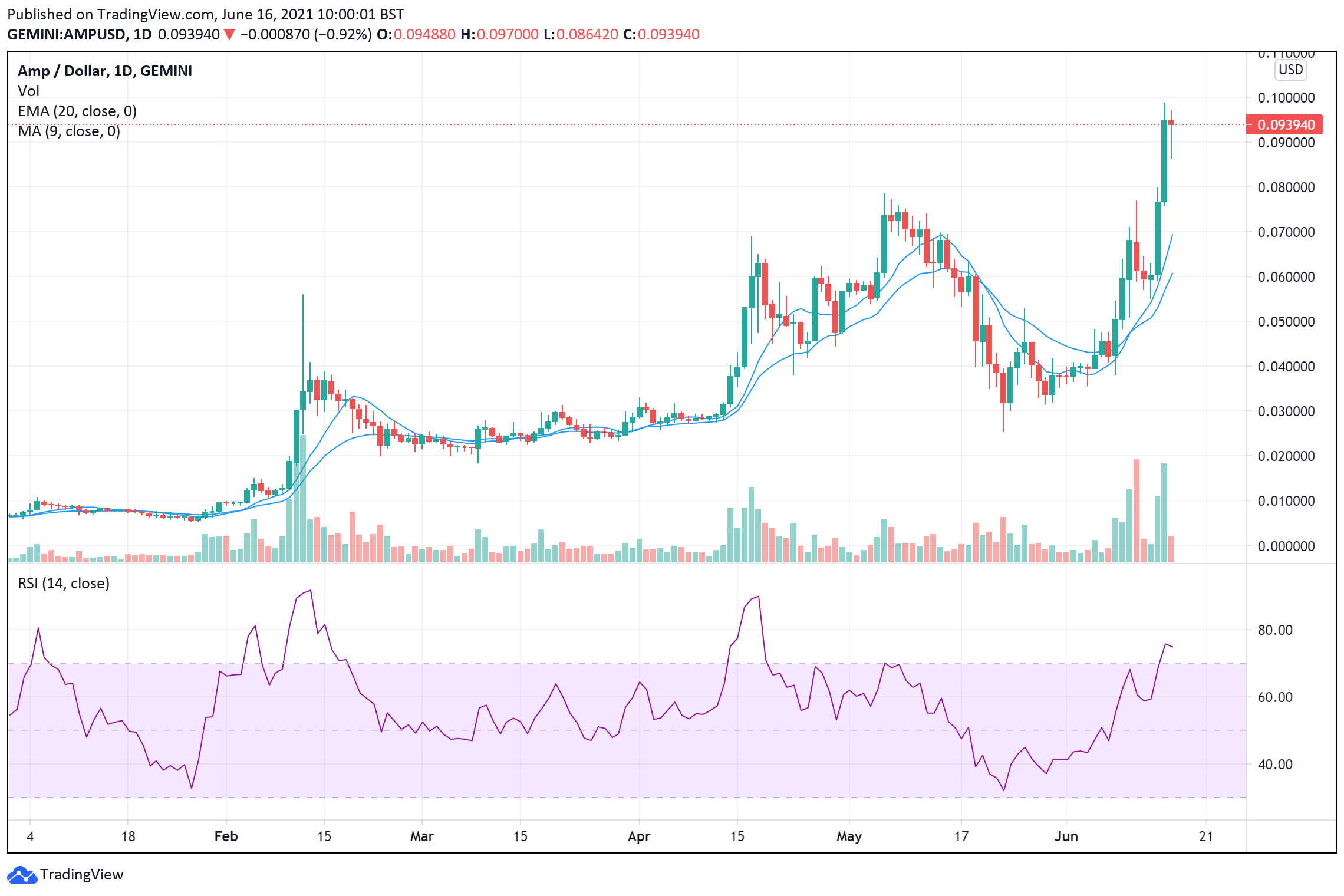 The AMP price is currently above its 50-day exponential moving average (EMA) of $0.053 and the 20-day simple moving average (SMA) of $0.069. So, there is a lot of upside to it.
However, investors might want to beware of AMP. With a relative strength index (RSI) of 74.04, AMP is fast approaching its overbought levels. The RSI rose 34 percent in the past day, suggesting that many investors have caught wind of AMP's rally and are buying in.
Looking to buy Amp (AMP) now? Invest at eToro!
75% of all retail investor accounts lose money when trading CFDs with this provider.