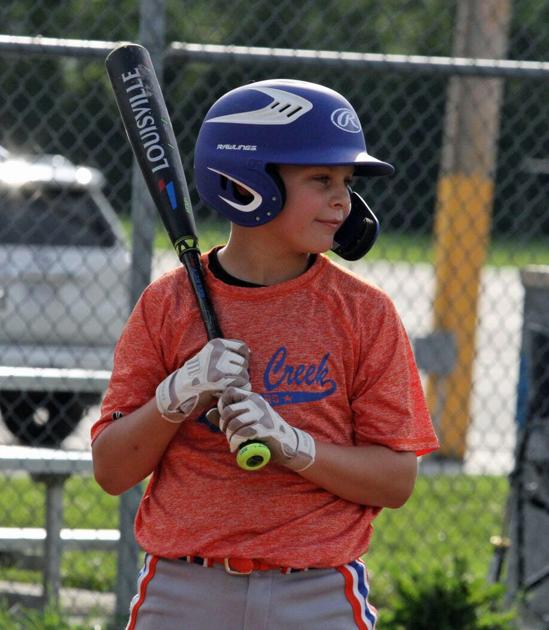 MUNSTER — Luke Ott was red hot on the mound and Guy Proctor came up clutch for the Silver Creek 12U All-Star team Thursday afternoon.
Thanks to Ott's complete-game shutout and Proctor's fourth-inning RBI-single, Creek blanked Broad Ripple Haverford 1-0 in an elimination game of the state tournament at the Munster Little League.
"It was one heck of a game," said Silver Creek manager Shane Roberts, whose team will face New Castle at 10 a.m. this morning in another elimination game.
Ott allowed only two hits while striking out nine.
"Luke Ott competed as hard as I've ever seen the kid compete," Roberts said. "He was outstanding with his fastball and curveball mix. He pounded the strike zone all day and challenged every hitter."
So did his counterpart, Ari Sahm.
"I think we faced the best arm in the entire field today," Roberts said.
Sahm held Silver Creek hitless through the first three innings.
In the bottom of the fourth, though, Elliott Kopf doubled off the centerfield wall with one out.
"That was absolutely huge," Roberts said. "It was probably three feet from going out."
Kopf moved to third on a passed ball before scoring on Proctor's two-out single to left field.
"It was a laser line drive," Roberts said of the winning hit.
That was all Ott needed. He closed out the game by retiring Broad Ripple in order in the top of the sixth.
The reigning state champs will try to keep their title hopes alive again today, when they face New Castle.
"All I know is they've got their ace (pitcher) available," Roberts said.
It will mark the third straight state game in which Creek has faced its foe's top arm.
"We are bound to start hitting," Roberts said. "We haven't hit yet; the floodgates are going to open and I hope it's (Friday)."
HYR INTERMEDIATE ROLLS IN STATE OPENER
GEORGETOWN — The Highlander Youth Recreation Intermediate 50/70 All-Star team rolled to an 18-2 four-inning triumph over Broad Ripple in its first game of the state tournament Thursday at HYR Little League. 
Lance Metz led the offensive onslaught for HYR, going 3-for-3 with a double and five RBIs while scoring twice. Luke Jacobi, Easton Hogan and Cooper Nash added two hits apiece. Nash also tallied four RBIs and scored three times while Hogan touched home twice. Clay Austin and Noah Leasor scored two times each. 
On the mound, Hogan picked up the win. He allowed one hit while walking two and striking out four in two innings. Nash and Clayton Franks each tossed an inning of relief.
HYR is scheduled to face Zionsville, which outlasted Hamilton Park 8-7 in its opener, at 2 p.m. today.  
SC JUNIORS FALL
MIDDLEBURY — Hebron edged the Silver Creek Junior League All-Stars 5-4 in the first game for both at the state tournament at the Middlebury Little League.
Silver Creek will face Eagle Creek at 10 a.m. this morning in its second game of pool play.