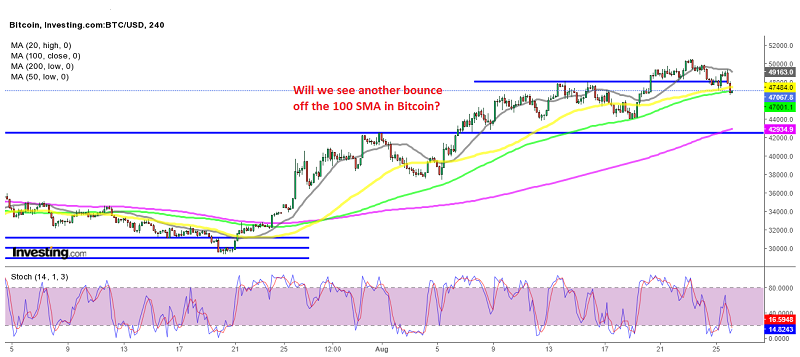 Bitcoin has been leading the crypto market forever, and recent times have confirmed this. Bitcoin tumbled lower when China declared war on Bitcoin and its mining operations in May, and the crypto market followed it downhill, although banning mining in China only made it easier for other miners around the globe.
Then, the price reversed in late July, and the crypto market turned bullish along with it, following Bitcoin higher as it breached the $50,000 level. During the bullish reversal, we bought Bitcoin several times, the last time being at the 100 SMA (green) on the H4 chart, when we bought BTC/USD at around $44,000 and booked profit as the bullish trend resumed again.
In September, tags for identifying Bitcoin, ETHEREUM and other crypto assets will be launched. This is seen as another sign that the crypto market is adopting the characteristics of mainstream markets. The number of Bitcoin ATM machines has also been on the rise. The price increased once again in August, which has been another positive sign, suggesting that cryptos are forcing their way into the mainstream payment systems.
BTC/USD
So, BTC/USD retreated lower this week, but yesterday we saw a bounce in the crypto market. We decided to buy LITECOIN during the retreat yesterday and at some point, we were well in profit. But, we are not seeing a continuation of yesterday's bounce, and Litecoin is back at the opening price for our signal.
Bitcoin has also reversed lower, trading at around $47,000, where we decided to open a buy signal today. The price was finding support at the 100 SMA (green) on the H4 chart, where we bought Bitcoin earlier this month. The stochastic indicator is also oversold in this time frame. Besides that, the retreat still seems weak, so the profit-taking in cryptocurrencies will continue before the bullish momentum resumes and Bitcoin retests the $50,000 level again. So, we are long on Bitcoin now, waiting for the bullish reversal to come soon.