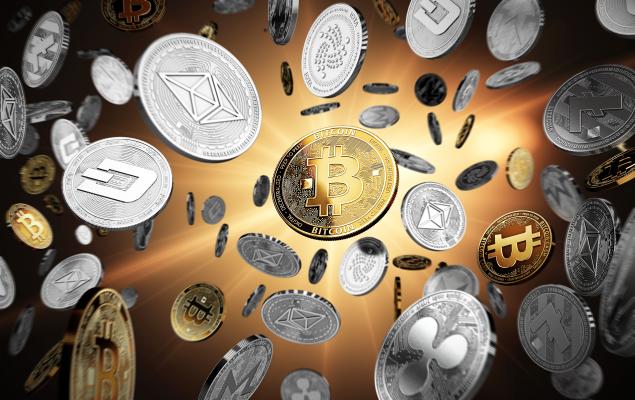 The biggest public pure-play cryptocurrency platform Coinbase Global's (COIN – Free Report) reported solid second-quarter earnings on Aug 10. It topped estimates on both earnings and revenues.
Adjusted earnings per share came in at $6.42, well above the Zacks Consensus Estimate of $2.49. Revenues climbed 12-fold year over year to $2.2 billion and edged past the estimated $1.8 billion, driven by transaction revenues.
Trading volume spiked more than 1500% from just $28 billion in the year-ago-quarter to $462 billion driven by a surge in bitcoin trades. Retail monthly transacting users (MTUs) grew 44% from Q1 to 8.8 million and assets in platform totaled $180 billion. Coinbase had 68 million verified users at the end of Q2, up from 56 million in the first quarter.
However, the cryptocurrency exchange forecasts lower trading volume and MTUs for the third quarter, citing that the prices of digital assets and volatility had "declined significantly relative to Q2 levels." Coinbase's fortunes are largely tied to the public's interest in cryptocurrencies, drawing revenues from transaction fees earned from cryptocurrency trades on its platform (read: Are These ETFs Headed for Pain as Bitcoin Dominance Falls?).
ETFs in Focus
Given robust earnings, investors seeking to bet on this largest U.S cryptocurrency exchange could consider ETFs having a larger allocation to the networking giant. We have highlighted five of them in detail below:
Global X Blockchain ETF (BKCH – Free Report)
This fund seeks to invest in companies positioned to benefit from the increased adoption of blockchain technology, including companies in digital asset mining, blockchain & digital asset transactions, blockchain applications, blockchain & digital asset hardware, and blockchain & digital asset integration. It holds 25 stocks in its basket with Coinbase occupying the second position at 12.3% share. The ETF has gathered $15.9 million since its debut a month ago and trades in an average daily volume of 49,000 shares. It charges 50 bps in annual fees (read: Best ETF Areas of Last Week).  
Bitwise Crypto Industry Innovators ETF (BITQ – Free Report)
This fund offers exposure to the crypto economy without the complications of holding cryptoassets directly. It tracks the Bitwise Crypto Innovators 30 Index, which measures the performance of the companies involved in servicing the cryptocurrency markets, including crypto mining firms, crypto mining equipment suppliers, crypto financial services companies, or other financial institutions servicing primarily crypto-related clientele. Holding 30 stocks in its basket, COIN takes the second spot with 10.2% share. It charges 85 bps in annual fees from investors and trades in an average daily volume of 89,000 shares. BITQ debuted in the space this May, and has attracted $68.5 million in its asset base so far.
VanEck Vectors Digital Transformation ETF (DAPP – Free Report)
This ETF aims to offer exposure to the companies that are at the forefront of the digital asset transformation, such as digital asset exchanges, payment gateways, digital asset mining operations, software services, equipment and technology or services to the digital asset operations, digital asset infrastructure businesses or companies facilitating commerce with the use of digital assets. The fund tracks the MVIS Global Digital Assets Equity Index and holds 25 securities in its basket. Coinbase is the second firm accounting for 8.8% of assets. The ETF charges 50 bps in annual fees and trades in an average daily volume of 31,000. It has accumulated $42.9 million in its asset base since its debut in April.
Simplify Volt Fintech Disruption ETF (VFIN – Free Report)
This ETF seeks to offer exposure to the most disruptive fintech companies that are at the forefront of cashless payments. It aims to invest close to 25% across Square (SQ) stock and Square call options while targeting 25% in Lemonade (LMND) stock and Lemonade call options. A modest put option overlay is designed to help mitigate sharp market crashes. COIN makes up for a 6.2% share in the basket. The product has accumulated $2.6 million since its inception in late December and charges 1.03% in annual fees. It trades in an average daily volume of 5,000 shares.
Global X FinTech ETF (FINX – Free Report)
This product invests in companies on the leading edge of the emerging financial technology sector, which encompasses a range of innovations helping to transform established industries like insurance, investing, fundraising, and third-party lending through unique mobile and digital solutions. It follows the Indxx Global FinTech Thematic Index, holding 54 stocks. Coinbase occupies the sixth spot making up for 5.4% shares. The fund has AUM of $1.3 billion and trades in a volume of 182,000 shares a day on average. It charges 68 bps in annual fees (read: Invest in Robinhood With These ETFs).