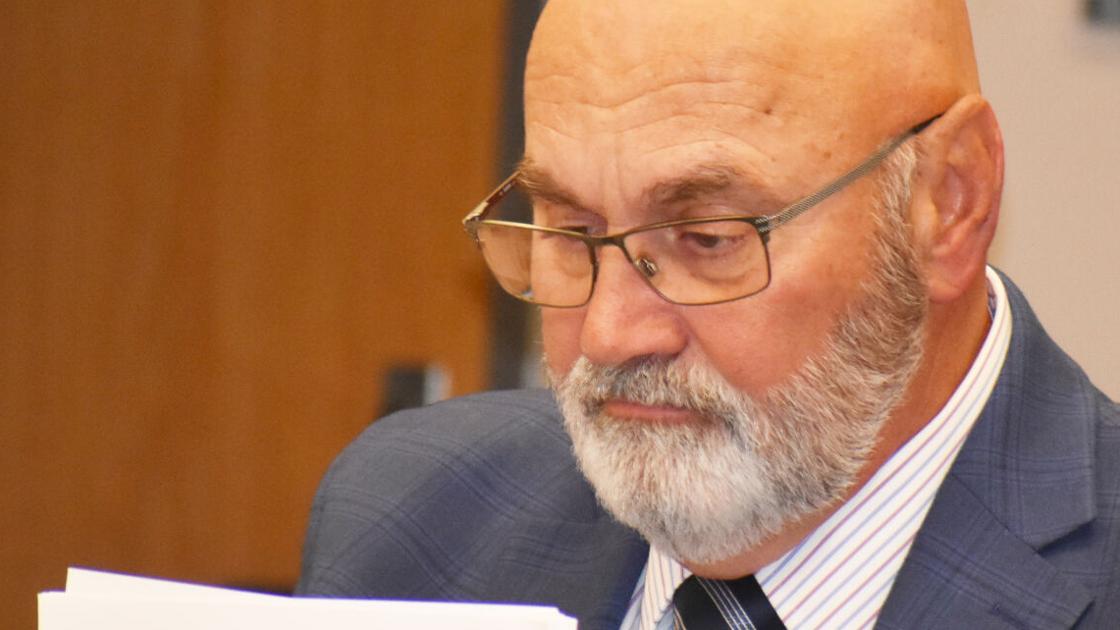 The BrightRidge Board of Directors went into executive session with its legal counsel Tuesday afternoon to discuss an ongoing dispute with Washington County regarding noise coming from a bitcoin mining business.
Red Dog Technologies is operating a cyber-currency mining facility on BrightRidge property, which the public utility asked the County Commission to rezone in the Limestone community last year.
Commissioners now want those operations to cease.
BrightRidge CEO Jeff Dykes was slated to give the utility's directors an update on efforts by Red Dog to abate noise complaints in the rural neighborhood.
Instead, Dykes provided a brief account of the action taken by commissioners at their meeting on Monday night before informing the board that BrightRidge had received a letter earlier that day from the county's planning director.
"That's all I have until we move into executive session," Dykes said.
Directors later gathered in a closed session with their attorney, Steve Darden, at the end of the board's regular monthly meeting. Such behind-closed-door meetings are allowed under the state's Sunshine Law if a governing body is meeting with its legal counsel to discuss pending litigation.
Commissioners voted at their meeting Monday to instruct county Planning Director Angie Charles to send a letter to BrightRidge and Red Dog officials informing them that the bitcoin mining operation does not comply with the legal zoning use for that area.
Allyson Wilkinson, the county's attorney, told commissioners that because the bitcoin mining operation is not being operated as a public utility, it is not in compliance with the zoning they have approved for the site. She said the county and adjacent property owners could seek a court injunction as a legal remedy to address the issue.
Todd Napier a representative of Red Dog, told commissioners the company has spent $500,000 on efforts to reduce the noise at the property. He said decibel readings at the cyber-mining site have been reduced by nearly 50% in the past month.
Even so, commissioners said that wasn't good enough. Regardless of the noise issue, Commissioner Jodi Jones and a number of her colleagues said the fact remains Red Dog's operation does not conform with the zoning use allowed in that community.
Last month, several commissioners told BrightRidge and Red Dog officials they felt they had been misled into believing the original rezoning request was for a solar farm and data center.
The commission began addressing the bitcoin mining operation in July after hearing from a number of residents in the Limestone community who said noise coming from the computers and cooling fans used by Red Dog at its bitcoin mining facility has been unbearable since it began its operations earlier this year.
In other business Tuesday, BrightRidge directors heard from Frances Lamberts, a Jonesborough resident and an advocate of environmental conservation, who commended the utility on its efforts to promote renewable energy. In particular, she praised BrightRidge for its efforts to offer customers a solar power option.
She said it was important for BrightRidge to "continue to move away from polluting fossil fuels" that contribute to climate change and embrace renewable energy.
BrightRidge held a a groundbreaking ceremony earlier this year on Washington County's second solar farm, a 9 megawatt power generating facility being developed on 104 acres of former farmland by Nashville-based Silicon Ranch in partnership with the Tennessee Valley Authority and BrightRidge.
Washington County Mayor Joe Grandy, a member of the BrightRidge board, told Lamberts it is the utility's goal to soon have up to 28 megawatts of power generated by solar energy.