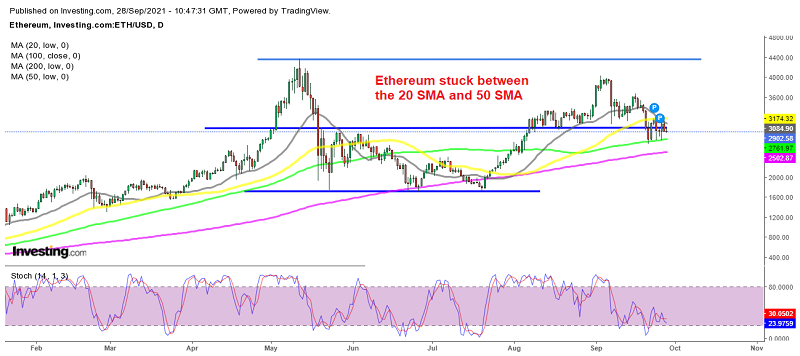 Cryptocurrencies have turned bearish earlier this month, after being quite bullish for more than a month in August. It seemed like the bearish times ended after the major crash in May which lasted until late July, but the bearish momentum resumed again in September, as the crackdown on cryptos accelerates. Litecoin is looking extensively bearish while Ethereum which was showing great signs of demand until early September has turned down as well and seems stuck now, so let's have a look at these two cryptos.
Ethereum Analysis – ETH/USD Bouncing Between MAs
As we mentioned, Ethereum was looking quite bullish from late July until early September. Ethereum appreciated around 250% during that period, while Bitcoin didn't even double in price during the same timeframe. The London Hard fork or Ethereum 2.0 upgrade which was launched recently helped improve the sentiment and the demand as well for the Ethereum network and the coin as well, pushing ETH/USD above $4,000.
ETH/USD
But, the second crash in the crypto market came in the second week of September, while the second leg of this bearish move came last week. Ethereum broke below the 20 SMA (gray) on the first decline and the 50 SMA (yellow) on the second decline last week.
Now, the 50 SMA has turned into resistance for Ethereum at the top, with the 20 SMA adding further strength now after catching up. The 100 daily SMA (green) has turned into support at the bottom, so Ethereum has been bouncing between these MAs a few times now. Buyers surely want to get going, but the bearish sentiment in the market is holding them for the moment. Nonetheless, I think that buying at the 100 SMA at around $2,750 is a good trade idea, with a stop below the 200 SMA (purple).
Ethereum Analysis – ETH/USD Bouncing Between MAs
Litecoin trading below $150
Litecoin on the other hand, has been looking quite weak as we mentioned on the 2021 Litecoin forecast, without much stamina to drive it higher. We saw a jump in early September, which took the price above the 200 SMA, but the crash in the market brought it down. We saw another spike when GlobeNewsWire announced that Walmart was going to accept Litecoin, which was false of course. The price has fallen below all moving averages on this chart, which have turned into resistance, showing increased weakness, but the decline has stalled around $150.
The 50 SMA (yellow) has been the reason for the stop at this area on the weekly chart. It has been acting as support for LTC/USD and now the 20 SMA is adding further strength as well on this timeframe chart. If these moving averages get broken, the other two MAs will offer a good place to buy Litecoin around $100, which was the July low.
The 20 and the 50 SMA holding as support