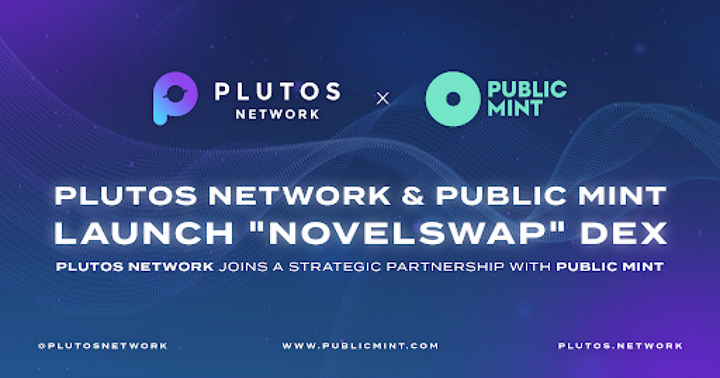 Plutos Network, the leading multi-chain-based DeFi Synthetic Hub, is thrilled to announce that they will be launching NovelSwap, a next-generation DEX, on the Public Mint network. The two companies will also expand collaborations in other upcoming solutions.  
Public Mint is an open and complete blockchain platform for fiat money, where funds are fully collateralized and held on deposit with regulated, FDIC-insured institutions. The launch of NovelSwap on Public Mint will be the beginning of the in-depth collaboration between the two companies. In the future, Plutos Network will work with the Public Mint team to integrate the powerful, simple payment system that Public Mint offers. 
NovelSwap is already live at Public Mint testnet now, and we have a small group of beta testers that are stress-testing the DAppswap and providing valuable feedback to our developer team. NovelSwap should be launching on the Public Mint mainnet in about a month, at the end of October.
By launching NovelSwap on Public Mint, a fiat-native blockchain, Plutos Network will offer the Public Mint community a way of trading their MINT tokens for their native USD. And in the future, any project that launches on Public Mint will be able to use NovelSwap for trading.
"While we are seeing some leading public blockchains growing fast during the last quarter, Public Mint is one that we do see the very promising potential for massive adoption," said Juan Capilla, CEO at Plutos Network. By building NovelSwap on Public Mint, we will be able to offer the best trading services for PLUT traders."
NovelSwap will be the first-ever solution built by an independent developer on top of the Public Mint blockchain, and it will offer Public Mint users the first gateway to trade using their native USD.
"We are thrilled to have the first independently-built project on our network – especially by such a reputable group like Plutos Network", said Jorge Pereira, co-founder and CTO of Public Mint. "Moreover, we're excited about the potential of this partnership and we hope to take our collaboration to new heights in the near future."
NovelSwap Features and Benefits Include:
NovelSwap is the first and only DEX currently on the Public Mint blockchain.
Part of the trading fee incurred from the DEX will be used for buyback of PLUT tokens.
NovelSwap will leverage Public Mint's low-cost and fixed gas fees, currently only at $0.30 for buying, and $0.53 for selling tokens. The gas fee is paid in USD and fixed regardless of the trading amounts.
NovelSwap's trading fee model is fair and transparent. Sellers are charged 0.5% on the transaction, while buyers pay zero fees – which ensures a much fairer price action for the launch of new projects by up-and-coming startups.
Swaps take only four seconds on average on NovelSwap, due to Public Mint's fast blockchain confirmation time and instant finality.
Traders can easily fund their wallets with USD via Public Mint wallet's direct connection via bank transfer or credit card/wire, or via USDC deposits via the company's partnership with Circle. And after selling tokens, users can withdraw fiat directly from their wallets to their bank accounts; there is no need to go through another exchange.
NovelSwap is launching with a MINT-USD pair. Once Public Mint adds Euros and other fiat currencies to their blockchain, we will also consider launching EUR/MINT and other trading pairs.
Once a project deposits LP into NovelSwap, that liquidity is locked.he project owner can choose the duration of the lock, and when this lock expires, this will be publicly displayed in the NovelSwap pair interface so anyone can verify.
In addition to Public Mint, Plutos also plans to launch NovelSwap on BSC and Ethereum in the near future. 
Image Sourced from LaunchTeam