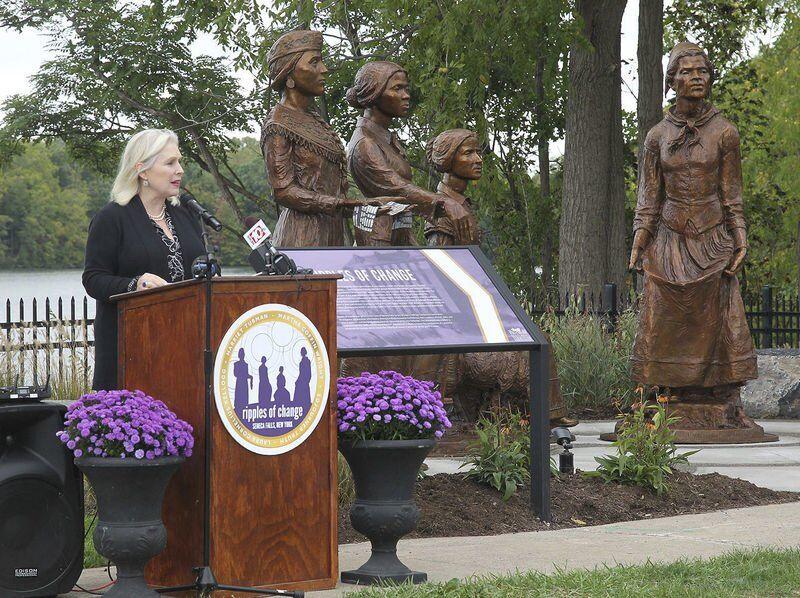 SENECA FALLS — There are now seven statues of early women's rights leaders overlooking the Cayuga-Seneca Canal on East Bayard Street.
The four most recent sculptures, the "Ripples of Change," were dedicated Friday. The ceremony featured remarks by U.S. Sen. Kirstin Gillibrand, D-N.Y., and Lt. Gov. Brian Benjamin.
Statues of Harriet Tubman, Sojourner Truth, Laura Cornelius Kellogg and Martha Coffin Wright join those of Elizabeth Cady Stanton, Susan B. Anthony and Amelia Bloomer along the canal in the community recognized as the Birthplace of Women's Rights.
The statues were created by artist Jane DeDecker, who was commissioned by the Women's Suffrage Centennial Commission to honor the 100th anniversary of the 19th Amendment giving women the right to vote. Eventually, they will be placed in People's Park downtown.
"It is an honor to join the Women's Suffrage Centennial Commission here in Seneca Falls, the birthplace of women's suffrage, to commemorate the brave and bold women who fought nobly to secure the right to vote," Gillibrand told the crowd. "We recently celebrated the 100-year anniversary of women's suffrage, and the best way to honor the great women who came before is to march on and continue their work. There is still work to be done to ensure that every vote is counted, and I am working hard in the Senate to secure those rights.
"I love visiting Seneca Falls," Gillibrand added. "It's such a part of our history of civil rights and the women's rights movement. It's right that the statues should be here. They help tell the story of the struggle to vote, which is so important to our country. Everyone who votes should understand the history of the original women's suffrage leaders."
Gillibrand gave a brief history of the four women, calling Tubman "one of my favorite New Yorkers of all time." An integral part of the Underground Railroad, Tubman, an escaped slave, secured freedom for hundreds of other slaves.
"She was known as the Moses of her people, but also as The General," Gillibrand relayed. "When anyone said they couldn't go on anymore on the Underground Railroad, she'd take out her pistol and tell them, 'Yes you can.' She never lost a passenger."
Benjamin noted that Gillibrand, state Attorney General Letitia James and Gov. Kathy Hochul would not be in their positions today without the work of early suffragists.
Karen Hill, president and CEO of the Harriet Tubman Home in Auburn, called the "Ripples of Change" statue "a diverse and inclusive statue of women who, while fierce suffragists, also knew that women like them would not be included in the franchise to expand the right to vote."
"A lot has been accomplished in 100 years, but there is so much more that needs to be done to expand and protect the voting rights of all eligible Americans," Hill continued, noting that Black and Native American women had to fight into the 1960s to exercise their right to vote.
Truth was a preacher, born a slave, and an ardent abolitionist and women rights activist known for her lively speaking and singing abilities and for "stirring the waters" to inspire others to be part of the change toward equality for all.
Kellogg was a member of the Oneida Nation and an activist, author, suffrage supporter and founder of The Society of American Indians.
Wright, from Auburn, spent her life devoted to activism, women's rights and helped plan the first women's rights convention in Seneca Falls in 1848. She and other Quakers refused to wear cotton clothing that were a product of slavery.
State Sen. Pam Helming, R-54 of Canandaigua, former state Sen. Mike Nozzolio of Fayette, state Canal Corp. Director Brian Stratton and Generations Bank CEO Menzo Case were among the luminaries to attend. Town Supervisor Mike Ferrara and some Town Board members were there too.