 Cryptocurrencies have been a bullish asset class during 2021. Despite the recent declines in price, and , are up more than 63% and 408%, respectively, so far this year. With market caps of about $926 billion and $478 billion, respectively, the two are by far the largest digital assets.
The Global Cryptocurrencies 2022 Outlook suggests:
"Renewed impetus from the Federal Reserve to take away the punch bowl, and declining bond yields may point to a macroeconomic environment in 2022 that favors top cryptocurrencies Bitcoin and Ethereum."
In fact, crypto enthusiasts wonder whether, given Ethereum's so far in 2021, its market cap might, in fact, catch up with that of Bitcoin. Although it is not possible to know how the year might end for digital assets, investors are likely to continue keeping a close eye on them.
Recent weeks saw the launch of three futures-based Bitcoin exchange-traded funds (ETFs) in the U.S. We already the ProShares Bitcoin Strategy ETF (NYSE:) and the Valkyrie Bitcoin Strategy ETF (NASDAQ:).
Since October, both ETFs are down about 33% and 22%, respectively. However, there are no comparable Ethereum ETFs in the U.S.—yet.
Nonetheless, prior to the launch of ETFs based on , investors in digital assets could already participate in spot price moves in both Bitcoin and Ethereum by investing in Grayscale Bitcoin Trust (OTC:) or Grayscale Ethereum Trust (OTC:). As their names imply, GBTC and ETHE are trusts rather than ETFs.
They are both regulated by the Securities Act of 1933 as well as the Securities Exchange Act of 1934. Therefore, these trusts regularly disclose financial information to the public.
Given the interest in these two digital tokens, today we focus on another futures-based Bitcoin ETF, as well as the Ethereum trust. Potential investors should note that cryptos are extremely volatile, and daily moves of 5%-10% are quite common. Therefore, investing in digital assets may not be appropriate for everyone.
With that information, here are two funds that could appeal to a range of readers who want to invest in Bitcoin futures or Ethereum.
1. VanEck Bitcoin Strategy ETF
Current Price: $49.03
52-Week Range: $45.29 – $61.55
Expense Ratio: 0.65% per year
The VanEck Bitcoin Strategy ETF (NYSE:) is a new Bitcoin futures-based fund. It does not invest in Bitcoin directly. Rather, the ETF enables retail investors to have exposure to Bitcoin futures through their regular brokerage accounts.
XBTF started trading on Nov. 16, at an opening price of $40.88. The same day, it hit an intraday record high of $61.55. Since then, it has lost about 25% of its value. Total assets stand at $142 million.
Regular readers of this column would know that we occasionally discuss exchange-traded products (ETPs) that are based on commodity futures, and highlight that they do not fully track the spot price of that commodity. Fund managers have to regularly—usually monthly—roll that futures contract.
Similarly, an ETF like XBTF, which is futures-based, does not fully follow the spot price of Bitcoin.
Futures markets can either trade "in backwardation" or "in contango," which is more common. As derivatives marketplace CME Group highlights:
"Contango and backwardation are terms used to define the structure of the forward curve. When a market is in contango, the forward price of a futures contract is higher than the spot price."
In the case of contango markets, the price difference leads to a contango risk in a fund like XBTF. It is not wrong to assume that futures-based funds can easily lose 5%-7% a year due to contract rolling. When we add the annual expense ratio—in this case, 0.65% per year—we note that investors typically pay a hefty performance price tag.
In other words, potential investors in XBTF would need to remember the level of costs as well as volatility. However, those who expect Bitcoin to perform well in 2022 could consider dedicating a small percentage of their long-term portfolios to the crypto fund.
2. Grayscale Ethereum Trust
Current Price: $37.33
52-Week Range: $11.99 – $47.40
Expense Ratio: 2.0% per year
Investing in the Grayscale Ethereum Trust (OTC:) represents partial ownership in Ethereum. In recent weeks, the digital token hit a record price shy of $4,900. Now, it hovers around $3,700.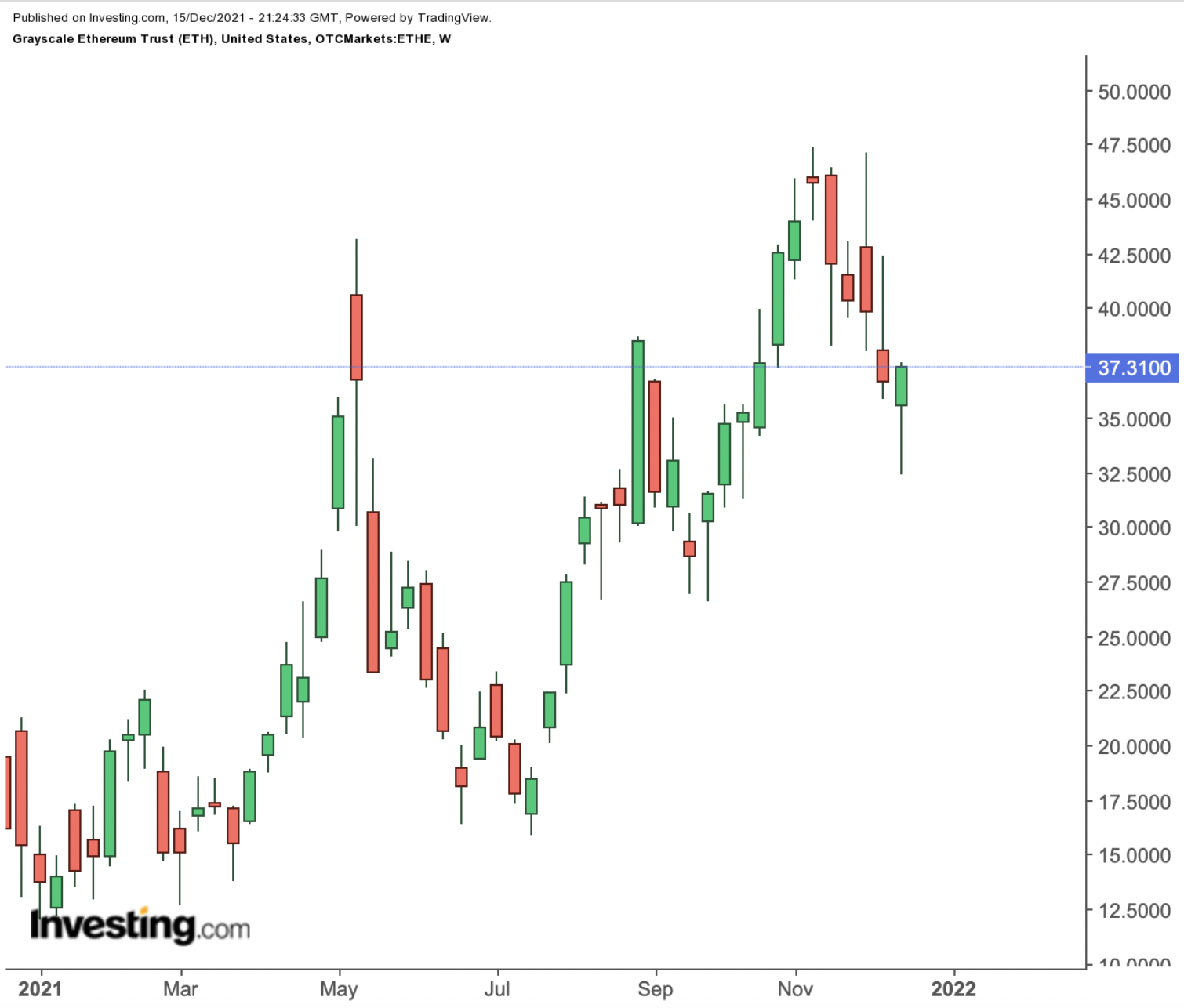 The investment objective here is for ETHE shares to reflect the value of Ethereum held by the trust, determined by reference to the index price, less the trust's expenses as well as other liabilities.
ETHE started trading in December 2017, and assets under management stand at $11.8 billion.
The trust is up about 111% so far in 2021. By comparison, Ethereum has returned more than 408%. In other words, interested investors would likely be better off investing directly in Ethereum.
For 2022, we remain bullish on Ethereum. As readers might know, a large number of digital currencies, including such popular alt-coins as , and , have been created on the Ethereum network. The platform facilitates a popular ecosystem that supports decentralized smart contracts.
Thus, Ethereum bulls highlight the crypto's real-life utility. In addition to smart contracts, the platform provides infrastructure for many decentralized finance (DeFi) protocols.
We have to also note that a number of U.S. companies, like several major global peers, accept payments in Ethereum, including Amazon (NASDAQ:), PayPal (NASDAQ:) and Overstock (NASDAQ:). Furthermore, more than 95% of non-fungible token (NFT) sales occur with Ethereum. Therefore, we are likely to see new all-time highs in Ethereum in the coming years, if not months.