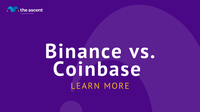 Crypto exchange fees can add up, especially when you factor in the amount it costs to deposit and withdraw your funds.
Binance and Binance.US
It's free to transfer most fiat currencies (such as U.S. dollars) from your bank account to both Binance and Binance.US. However, if you want to use a debit card, you'll pay a 4.5% fee on Binance.US and 1.8% on the main exchange.
Trading fees are pretty similar. Customers on both platforms can get a 25% discount if they pay fees in Binance Coin (BNB) and high volume traders can also qualify for lower fees. The basic maker-taker trading fee is 0.1% which compares well with most other crypto exchanges.
To buy $1,000 worth of Bitcoin (BTC) on Binance.US using a debit card, you'd pay a $45 fee plus the 0.1% trading fee. If you used a bank transfer, you'd only pay the 0.1% trading fee.
READ MORE: Our full Binance review
Coinbase and Coinbase Pro
If you want to buy cryptocurrency regularly, it's a good idea to learn how to use Coinbase Pro. This is because the fees are significantly cheaper than on the starter Coinbase platform. Let's say you want to buy $1,000 worth of Bitcoin on Coinbase using a debit card. You'd pay 3.99% in card fees ($39.90) as well as a spread of approximately 0.5%. The exact exchange rate is only shown at the point of purchase.
In contrast, on Coinbase Pro you can only deposit money via a bank transfer, which is free. You'd then pay set maker-taker trading fees that get reduced as you reach higher trading volume. The basic fee is 0.50% for those who trade less than $10,000 a month.
READ MORE: Our full Coinbase review
Binance vs. Coinbase: Cryptos available
If you're only planning to buy a couple of well-known coins, such as Bitcoin or Ethereum (ETH), you won't need to look for a crypto platform with a long list of available tokens. However, if you plan to branch out and buy some of the smaller tokens, there's nothing more frustrating than finding your exchange doesn't sell the coin you want.
Luckily, both Binance.US and Coinbase have a decent selection of coins. There's occasionally some variation between Coinbase and Coinbase Pro, but not enough to differentiate between the two platforms. The main Binance platform blows them all out of the water, but that doesn't help much if you live in the U.S.
Here's how many cryptos you can buy on each exchange: