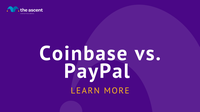 It can be difficult to compare crypto fees for two reasons. First, crypto platforms are not always transparent about how much they charge. Second, you might pay to deposit money, trade, and withdraw funds — and there's very little consistency across platforms on how these charges work.
For example, some cryptocurrency apps and exchanges don't charge for deposits, but then hit you with a big fee when you want to withdraw your funds. Let's see how Coinbase vs. PayPal fees shake out.
Trading and deposit fees
You can deposit money into your Coinbase or PayPal account for free using a bank transfer. Neither Coinbase nor PayPal let U.S. users buy crypto using a credit card.
PayPal account holders can also top up their balance with cash at certain stores, but this can cost up to $3.95. There's no additional PayPal fee if you want to buy cryptocurrency using your debit card.
In terms of trading, Coinbase and PayPal both charge a trading fee and a spread. A spread is the difference between the buy and sell price of an asset — think of it as a commission you pay to use the platform. Both platforms charge a spread of around 0.5%, but the exact amount is only calculated when you make the trade.
In addition, each platform charges a set fee for each transaction. Here's how those break down:
PayPal trading fees: