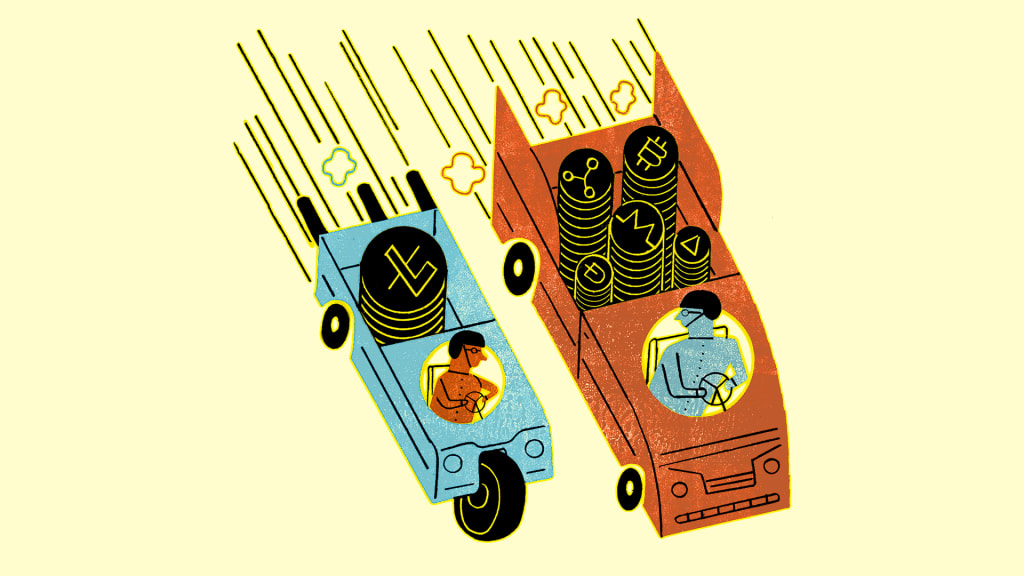 Among the hundreds of com­panies facilitating crypto trading are neo-brokerages Robinhood and SoFi, which started with stocks, and crypto-first marketplaces that power the trading of new currencies. Here are a few of Coinbase's fiercest competitors.
Binance
Founded: 2017
HQ: Decentralized
The world's largest crypto exchange by trading volume, Binance also has its own currency, Binance Coin. Founder Changpeng Zhao, who made his name developing high-frequency trading software for stockbrokers, moved the company out of China in 2017 because of that country's increasing regulation of cryptocurrencies. In 2019, the company launched Binance.US after being banned briefly by the United States. (It's still not permitted in several states.) Binance is expanding into new arenas, including launching Binance NFT, an auction-based marketplace for nonfungible tokens.
Recent Daily Trading Volume: $35 billion on Binance; $1.26 billion on Binance.US
Coins on Offer: 398; 62 on Binance.US
Kraken
Founded: 2011
HQ: San Francisco
Former gaming entrepreneur Jesse Powell launched Kraken after anticipating the collapse of the early Bitcoin exchange Mt. Gox, which folded in 2014. Though Powell has vociferously opposed cryptocurrency regulations, he's expanding the company into the highly regulated world of traditional banking. The state of Wyoming recently approved the company's application to become the world's first Special Purpose Depository Institution, which it's calling Kraken Bank.
Recent Daily Trading Volume: $1.98 billion
Coins on Offer: 98
Crypto.com
Founded: 2016
HQ: Singapore
Two years after serial entre­preneur Kris Marszalek co-founded the cryptocurrency and financial services firm Monaco, the company purchased a coveted domain name and rebranded as Crypto.com. Marszalek has pursued the company's mission of accelerating the "global development, adoption, and transition to crypto­currency" with a major publicity push, buying the naming rights to L.A.'s Staples Center, soon to be Crypto.com Arena, and producing flashy ads featuring actor Matt Damon. The PR isn't all a show, however. Crypto.com offers the world's largest crypto credit card product and the industry's biggest insurance policy.
Recent Daily Trading Volume: $1.13 billion
Coins on Offer: 137
Gemini
Founded: 2014
HQ: New York City
Founded by billionaire twins Tyler and Cameron Winklevoss, Gemini earned the distinction of becoming the first cryptocurrency trading platform licensed and regulated by New York State. The pair likely wanted to do things by the book after investing in Charlie Shrem's Bitcoin project, Bit­Instant, before Shrem was jailed for abetting a customer reselling Bitcoin on Silk Road. Gemini boasts that it's never been hacked, and its app allows users to put their crypto to use in stores through a payments option.
Recent Daily Trading Volume: $335 million
Coins on Offer: 68