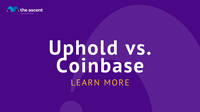 Uphold comes out ahead of Coinbase in terms of fees, though advanced traders can trade for less by using Coinbase Pro.
Cryptocurrency fees come in various guises, and platforms are not always transparent about what they charge. For example, a platform may offer free deposits but then charge a lot when you want to make a withdrawal — and it's not always easy to find how much each stage will cost on their websites. Fees also differ depending on your location and type of deposit/withdrawal.
Uphold says it charges 0% deposit fees, 0% withdrawal fees, and 0% trading commissions, but makes it clear that you'll pay a spread on each trade. Individual crypto networks will charge a transaction fee when you make withdrawals, but that's not something Uphold profits from.
It's free for U.S. and European users to deposit money by debit card or bank transfer, and there's a spread of 0.8% to 1.2% to trade popular coins. The spread increases for low liquidity cryptos and for traders in other countries.
For example, it would cost about $0.43 to buy $50 worth of Bitcoin (BTC) on Uphold — 0.85% of the trading amount. To buy $500 it would cost you $4.25.
Coinbase fees are higher and less transparent. It charges a variable spread of around 0.5% on each trade, as well as a transaction fee. The transaction fee depends on how much you're spending and what payment method you use.
For example, you'd pay a $2.24 fee to buy $50 worth of Bitcoin on Coinbase using a U.S. bank account. This breaks down into the 0.5% spread and a $1.99 flat fee. To buy $500 worth of Bitcoin using a debit card, you'd pay $22.45 — a 0.5% spread and a $19.95 debit card fee.
READ MORE: Full Coinbase review
Advanced traders using Coinbase Pro can trade for much less. They can deposit money by bank transfer for free and then pay a spread of 0.5% or less, depending on crypto trading volume.