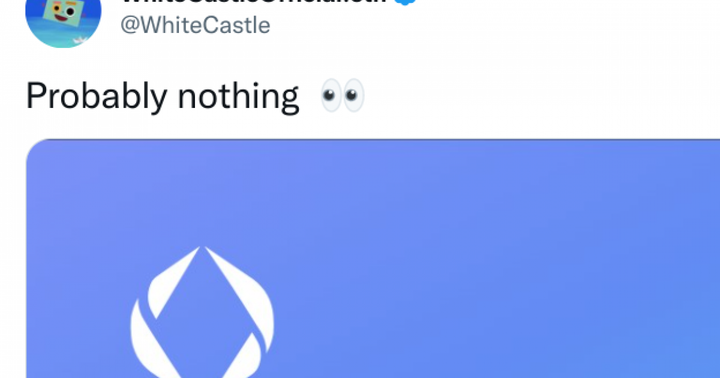 Fast-food chain White Castle purchased a name on the Ethereum Name Service (CRYPTO: ETH), an Ethereum-based (CRYPTO: ETH) decentralized domain registrar.
What Happened: White Castle announced in a Thursday tweet it bought the whitecastleofficial.eth domain name. The company teased it's "probably nothing." The firm also changed its Twitter Inc. (NYSE:TWTR) username to WhiteCastleOfficial.eth.
See Also: WHAT ARE ENS DOMAINS?
The report follows PepsiCo (NYSE:PEP) recently announcing the launch of the Pepsi Mic Drop non-fungible token (NFT) collection earlier this week. Anheuser-Busch InBev-owned (NYSE:BUD) Budweiser also recently launched its "Budverse Cans: Heritage Edition" collection of 1,936 NFTs that will serve as the key to the company's vision of the metaverse.
Furthermore, McDonald's Corp (NYSE: MCD) launched a limited amount of NFTs to celebrate bringing the McRib back to restaurants. Nike Inc. (NYSE:NKE) also recently joined former Facebook Meta Platforms Inc. (NASDAQ:FB) and Microsoft Inc. (NASDAQ:MSFT) in their metaverse bet by hinting at NFT sneakers.
ENS Price Action: As of press time, the Ethereum Name Service's token is trading at $43.46 after seeing its price fall by over 6.13% over the last 24 hours.
Join ZINGERNATION and earn ZING, an ERC-20 smart contract token we launched aimed to reward members as we build a community to find and share great trading and investing opportunities. Download the mobile app now, available on iOS and Android.
Click here, or sign up for our newsletter to explore more of Benzinga's Cryptocurrency market coverage, in-depth coin analysis, data, and reporting.